Looking for an alternative air conditioning system for your home or business in Auburndale? Ask us about chilled water systems.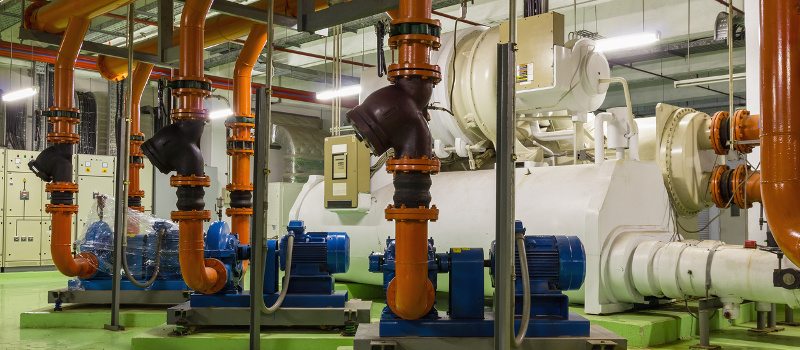 The larger the space that needs to be climate controlled, the more challenging it is to effectively and cost-efficiently cool the area. If you own an industrial space or office building in Auburndale, Florida, you may already have or at least know about chilled water systems as an alternate method of air conditioning. These systems are used in factories or other large spaces that need high cooling capacity.
Recently, however, there has been a growing interest in applying the principles of chilled water systems to residential and smaller commercial applications. There are several advantages of this type of system:
There is no chemical refrigerant traveling through the building that could leak.
These systems are less likely to overheat.
They can be more cost effective to use.
They can cool larger open areas than other types of systems.
Water is the secondary coolant, and water is not corrosive, non-toxic and cheap.
Generally, chilled water systems do require a cooling tower on the top of the building where they are installed, so it is good for homeowners and business owners to be aware of this when they are considering their options for cooling. If you live or work in Auburndale and are interested in learning more about chilled water systems, give us a call here at Johnson's Mechanical Inc. We have been making recommendations about commercial and residential air conditioning here in Central Florida since 1982.
We have emergency services available 24 hours a day, 7 days a week and fast, reliable repairs from our professional technicians. Your satisfaction is our priority, so call today.
---
At Johnson's Mechanical Inc., we offer chilled water systems for customers in Lakeland, Winter Haven, Auburndale, Plant City, Mulberry, Zephyrhills, Bartow, Polk City, and throughout Polk County, Florida.